Technology
Hydrogen Booster
Quadrogen's Hydrogen Booster system processes syngas and fuel cell exhaust gas to produce renewable, on-demand hydrogen.

The Hydrogen boost is achieved by sequential catalytically enhanced water-gas shift reactions followed by a polishing process that preferentially oxidizes the remaining carbon monoxide to less than 10 ppm.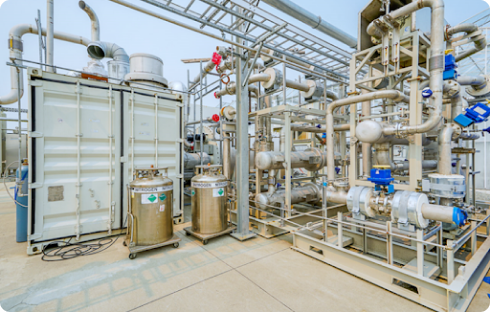 Process
CO + H2O → CO2 + H2 + heat
Carbon monoxide and water is converted to hydrogen and carbon dioxide. It is an important reaction for the maximum possible amount of hydrogen production.
Polishing by Preferential Oxidation
2CO + O2 → 2CO2 + heat
Preferential oxidation is a proven method to allow species other than hydrogen to be removed, to produce product with a high amount of hydrogen. 
If you wish to learn more or have an application for us to evaluate.